Culture/Festival
Lantern Festival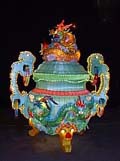 Guess what is this?
This lantern is an ancient cooking vessel with two loop handles and three legs, so it is usually called the tripod vessel. Isn't it amazing that people used such beautiful cookares in the old days?
Every year, Chinese people celebrate Lantern Festival on the night of January 15th of the Chinese lunar calender. Lantern Festival means that Spring Festival has ended and all relatives and friends will begin their new year's work so it is a good bye party.
The Lantern Festival is not only a day when the whole family can get together, but a time when young and old, rich and poor can have fun together. There is no better way to end the biggest of all Chinese festivals.