Special

Happy New Year 4697!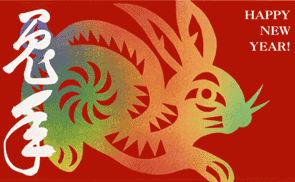 Is Y2K really here? No, it is the Chinese New Year. The Year of the Rabbit which begins on February 16, 1999. Rabbit symbolizes generosity, kindness, quick wit and the ability to make peace.

4697 New Year Recipes
Challenge your cooking skills by indulging in a weekend of New Year's Recipes! The suggested categories are: Fish, Pork, Beef, Vegetables, Soup and Dessert. Let's see what are on the table? Don't forget to email your friends the recipes!

Main Dish Dessert and Appetizer
Greeting Card
Send your friend an OrientalFood.com E-card.
Chinese Calendar
Download and print a Chinese calendar from CND.
Chinese Horoscope
What's my symbol? Find out your animal symbol from Calender Converter (hint, check to find the animal after Chinese PinYin "ShenXiao") Then click the Horoscope page to see what your horoscope stands for.