Special Report
1998 Taipei Chinese Food Festival
Part I: Modeling on the Catwalk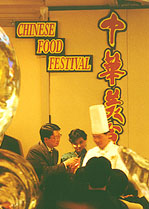 Models: 50 delicate dishes from Taiwan
Designers: 16 top chefs from Taiwan
When: November 1 - 2, 1998
Where: New York City
Cindy, Naomi, step aside, here comes 50 delicacies from Taiwan, showing off their luxurious look, sensational smell and delectable taste -- all in modern Chinese style. Roll the drums, turn on the spotlights, it's time for the 1998 Taipei Chinese Food Festival!

Enlightened by a 22-feet center display of an ice sculpture, " Two Dragons Playing Pearl", a two-day event of food exhibition, cooking and carving demonstration unfolds. Thousands of Chinese food lovers, including celebrities from the Chinese cooking industry, attended the event.
Dishes
Eight types of regional Chinese cuisine were introduced. The categories are Beijing, Canton, Fukien, Hunan, Jiangsu, Sichuan, Taiwan and Zhejiang. 50 dishes of exotic ingredients were arranged in such art form that each seemed to describe a story of its own. You see a joyful groom rushing to wed his bride in "Mouse Gets Married". You see an elegant fan rests quietly in a crowded room. You wonder whom it belongs to while the smell of her scent dazzles lightly in the air in "Abalone and Fruit Salad in Fan Shape". Gasped with admiration, everyone suddenly realized this magnificent artistry is in a league of their own.
Chefs
Sixteen top chefs were recruited for this event. To name a few, you might remember the grand display of dishes in the movie "Eat Drink Man and Woman". Chef Shih, Chien-Fa designed the dishes and served as the body double for actor Lung, Sihung, the Father. Please click to see his work: "The Lucky Dish", "The Joyful Mind", and "Deep Fried Chicken with Fruit Sauce in Coin Shape". On the other hand, Chef Chang, Ho-Chin is famous for serving his renowned dish, "Bitter Melon" to President Lee, Teng-Hui. His works are "Colored Prawn Noodles", "Steamed Swimming Fish" and "Cocooned Jade Abalone". All chefs have achieved local and international awards. Counterpart to Julia Child of the US, Taiwanese TV chef and spokeswoman, Ms. Fu, Pei-Mai also attended the festivity.
Cooking and Carving Demonstration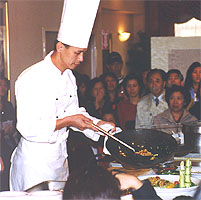 For the Halloween spirit in all of us, there was a cooking demonstration of "Deep Fried Bamboo Worms with Peanuts". Bamboo worms reside inside the bamboo and are very clean. Although the dish smells delicious, some people still prefer just to watch. Given the responsibility of writing this report, I had to gather every ounce of my courage to taste this dish. Well, it was definitely crunchy! Everything else is a blur. I guess it was too strange for me.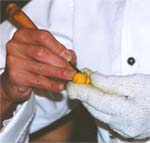 Chef Chen,Chao-Feng and Chef Liao, Ching-Chih also demonstrated fruit and vegetable carving techniques. Bee and carrot net carving were amazing to watch. Chef Chen also showed his carving tools that followed him through many competitions. Food Advisor, Teresa Lin, explained various steps and techniques as each chef cooks and carves up a storm. Ms. Lin achieved series of respectable accomplishments. You might recognize her hands since she used to act as a cooking body double for Actress Wu, Chien-Lien in "Eat Drink Man and Woman". She is the lady dressed in green on the first photo.
This event serves as a cultural exchange of Taiwan and the United States through Chinese gourmet cooking and culinary arts. I walked away with appreciation and respect for Taiwan's hard work in perfecting the exquisite delicacies of Chinese cooking.
Also see Part II: Photo Gallery of All Dishes.